Biography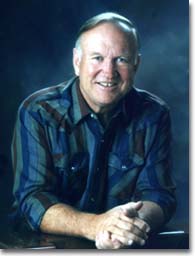 Senator McCorquodale was born in Longville, Louisiana in 1934. He was born in the home of his aunt who delivered him. His father, who operated asawmill moved the family to Newton, Texas in 1946. He graduated from Newton High School in 1952.
Work Experience
1994 – 1996: Commissioner, California Medical Assistance Commission - Office of the Governor, State of California
Responsibilities included negotiating contracts with hospitals throughout the state to provide medical care to Medi-Cal recipients.
1982 – 1994: Senator, Twelfth District, State of California
Represented a large portion of Santa Clara County (north, east and central San Jose, the Cities of Campbell, Milpitas and Morgan Hill) and all of Stanislaus County. Following reapportionment, represented all of Stanislaus, Merced, Madera, Tuolumne and Madera Counties as well as portions of San Joaquin and Fresno Counties.
During three terms in the State Senate, served as:
Chair of the Natural Resources and Wildlife Committee
Chair of the Agriculture and Water Resources Committee
Chair of the Public Employment and Retirement Committee
Chair of the Elections Committee
Chair of the Budget Subcommittee on Justice, Corrections, Resources and Agriculture
Chair of the Senate Special Committee on Developmental Disabilities and Mental Health
Chair of the Senate Select Committee on Citizen Participation in Government
Chair of the Corporate Governance, Shareholder Rights and Securities Transactions Commission
Chair of the Subcommittee on Effectiveness and Efficiency of Boards and Commissions
Also served on the following other committees and subcommittees:
Budget and Fiscal Review
Health and Human Services
Business and Professions
Insurance, Claims and Corporations
Transportation
Constitutional Amendments
Local Government
Joint Committee on the State's Economy and Public Pension Fund Investments
Water Marketing
Health Care Cost Management
Maritime Industry
Mobilehomes
Small Business Enterprises
Authored legislation with far-reaching importance in a number of areas including revamping the state water plan, water reclamation, conservation, consumer protection, securities regulation, local governmental revenue, humane treatment of animals, and a number of others. Was a leader in legislation and advocacy on behalf of developmentally disabled.
Served as a member of the Pacific Fisheries Legislative Task Force and in 1993 and 1994, chaired this group of representative of the five western United States. Also served on the Timber Legislative Task Force, made up of western timber-producing states. Member of the Executive Committee of the National Congress of State Legislators.
1972 – 1982: Supervisor, Third District, Board of Supervisors, Santa Clara County, California
Elected to three terms representing north and east San Jose, a portion of the City of Santa Clara, and the Cities of Milpitas and Sunnyvale. Twice served as the Chairperson.
In addition to local leadership on parks and open space, air quality and the environment, transportation, justice, and health and human services, represented Santa Clara County on a number of regional and state-wide bodies. This included serving as a member and Chairperson of the nine-county Bay Area Air Quality Management District, and a member of the Bay Conservation and Development Commission, Association of Bay Area Governments, Metropolitan Transportation Commission, and Advisory Council of the State Office of Planning and Research.
Elected to the Executive Committee of the County Supervisors Association of California and played a significant role in presenting county concerns to the state legislature, the media, and the federal government.
1970 – 1972: Special Education Teacher, Evergreen School District, San Jose, California
Initiated the first Educationally Handicapped Program for the Evergreen School District and taught learning-disabled fourth, fifth and sixth-grade students.
1969 – 1970: Teacher, Pasadena School District - Pasadena, California
1968 – 1969: Mayor, City of Chula Vista, California
Following a City Charter change, was elected by a broad margin as the City's first elected Mayor. Implemented initiatives in police and fire services, the process of selecting city franchises such as ambulance service and trash collection, and others.
1964 – 1967: City Council Member, City of Chula Vista, California
The youngest person ever elected to the Council, was a leader in library services and park development.
1960 – 1967: Teacher/Resource Teacher, National School District, National City, California
1957 – 1960: Student/Rancher
While completing college, owned and operated a successful calf-raising operation.
1953 – 1956: Sergeant, U.S. Marine Corps
Awards and Honors
Legislator of the Year, 1988, California Planning and Conservation League
Legislator of the year, 1992, California Park and Recreation Society
Conservation Service Citation for Outstanding and Distinguished Service in the Field of Natural Resource Conservation, 1991, National Wildlife Federation
Legislator of the Year, 1984, United New Conservationists
Legislator of the Year, PAW PAC, California Political Action Committee for Animals
Humanitarian of the Year, 1987, Humane Society
Award of Outstanding Achievement, 1989, Performing Animal Welfare Society
Annual Quality of Life Award, 1990, Land Utilization Alliance
100% on the Environment Award, 1990, California League of Conservation Voters
Legislator of the Decade, California Peace Officers Research Association
Legislator of the Year, 1991, National Organization for Women
Legislator of the Year, 1986, California Trial Lawyers Association
Outstanding Legislator of the Year, 1993, California Pharmacists Association
Legislator of the Year, 1984, CARR
Elected Official of the Year, 1991, California Governor's Committee for Employment of Disabled Persons
Legislator of the Year, 1994, California Association of Mental Health Patients' Rights Advocates
Outstanding Legislator in the Field of Developmental Services, 1984, State Council on Developmental Disabilities
Other Special Commendations for Preserving and Enhancing California's Resources
California Striped Bass Association
California Oak Foundation
Grasslands Water District
American Lung Association
Elephant Alliance
Mountain Lion Foundation
Mentioned in the national best-selling book written by Cleveland Amory, founder and president of Fund for Animals: The Cat and the Curmudgeon, "From then on the hero of the story was Dan McCorquodale, a remarkable California state senator and chairman of the Senate's Natural Resources and Wildlife Committee. …"
Publications
Corporate Takeovers: A Recommendation for California Policy. U.S. Library of Congress Catalog Number KFC359 .A25 1988
Medical and Mental Health Implications of PCP. U.S. Library of Congress Catalog Number KFC10.3 .M46 1986
After holding a series of hearings on the subject, sponsored two major reports on California biodiversity.