Fishing Stories: Louisana Swamplands, July 1999
Well, Max and I are back in Louisiana. No problems with the airlines. Max is becoming a veteran traveler. Now I just need to get the airlines to offer frequent flyer miles for him.
We took a later flight from San Jose leaving on Continental Airlines at 3:00 PM. It was nice not to have to leave so early, but it made it 10:30 PM when we got into Beaumont, Texas. My brother, John, and his wife Joyce picked us up for the 75 mile drive to their home. My brother had made arrangements for us to fish for catfish at Lake Livingston on Tuesday. So we were up early for the 90 mile drive to the lake. It was worth it however, for we caught almost 300 pounds of catfish ranging in size from 5 pounds to 35 pounds. Most were in the 15-20 pound range. We fished for these catfish below the dam where the water comes over the spillway. Regulations prohibit fishing within about 300 yards of the dam.
The catfish aren't subject to these regulations, however. So in order to get your hook in an area to have a chance of catching a fish requires a 100 to200 yard cast. So you fish from a floating platform with two levels. You use a 15 foot surfcasting rod and cast from the 2nd level. You use a large (about 6-8 inches long) float filled with about 6 ounces of lead. You go to the back of the platform, put the rod tip and weight behind you over your shoulder, take 3 steps and heave the hook and weight toward the dam. First of all, if you haven't been doing a lot of surf casting, it's not easy to swing the rod with weight hard enough to achieve this distance. Secondly, though the platform is about 12 feet wide, it looks awfully small. You are convinced that you will go off the edge. We had a good instructor and he made it easy for us. The person who casts then tries to hook the fish and since it would be hard to handle and land from the upper level, hands the rod down to the person on the lower deck, who then reels in and attempts to land the fish. Anyway I don't think I have ever seen so many catfish. But none coming close to the 100 pound mark.
So Wednesday finds us on our way to Louisiana. A four hour drive brings us to Bob's Black Bayou Marina. The houseboat is fine and in good shape. We do a few housekeeping things and are off to the swamps. Too late to do any serious fishing today so we go to bed early ready for a big day on Thursday. Well it is a big day, but not in the way we would have planned it. After running for about an hour we hear a bump and while the motor runs fine we don't go anywhere. We hope that it is just a problem with the propeller, but no such luck. We wait for awhile hoping one of the oil field work boats will come by and offer to tow us into the marina. No luck, as it turns out the Intercoastal Waterway is closed toward Morgan City due to an oil well blowout and so no work boats are moving on the canal. It's not a problem for us since we are east of Morgan City and don't have to pass the incident area.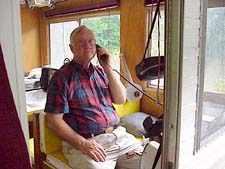 So since I am a member in good standing of U. S. Boat Association, which provides a tow up to 100miles with one of their boats or up to $1000.00 if you have to use a commercial towboat, decide to call them. A radio call brings no response, so I try the cell phone. I am barely in range and the connection is bad, but Joyce at U. S. Boat takes over. The bad news is they have no boat in this area, but she tells me she will call a tow service. "Surely we can find someone who will tow you for less than $1000.00", says she. Little does she know!! Within 30 minutes she is back on the phone and reports that she has found someone to tow me. The bad news is that they will charge $1900.00! And $100.00 more if I want them to dock the boat. I tell her to let me work on it for awhile. She said that she had found someone who would bring me some food and water if we needed it and they would take care of it. I told her to hold off and let me try a few things. I was still hoping to get a tow from an oilfield work boat.
I then think about calling Bob at the marina who monitors radio channels and I think may know someone if I can reach him. He answers on the first call and says "Sure, we have a marine patrol that will help out." It turns out that the marine patrol is part of the Sheriffs Department. I call Joyce back and report this to her. She handles the contact with the Sheriff's office. The only problem is that the Sheriff is not able to be reached and the deputy isn't sure that they can handle something as big as the houseboat. I pressed hard to convince her and them, the houseboat is not much bigger than a bass boat. By this time it is after 5PM and we feel we will have to spend the night out there. No problem except we don't like to spend the night on the Intercoastal Waterway because of the barge traffic, but we haven't seen a barge all day so think maybe there won't be any during the night. We take the lower unit off the boat and find that the gears have lost two teeth and the drive shaft has broken. This doesn't appear to be an easily solved problem.
So just as we have given up on getting a tow that night and start to fix something to eat, here comes the Sheriff's Deputy. He has a 25 foot welded aluminum boat with a 250 horsepower motor which probably could have pulled the houseboat fast enough to water-ski behind it and has us back to the marina in a little over an hour. No charge, just send a donation to the department if we want to. Boy do we want to!!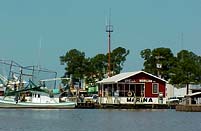 The next morning we start to work on the motor problem. The people at H and H Marine in Houma nice but not to confident we can have the unit for the weekend. Another brother and a sister are to arrive on Friday evening for the weekend and we hate to disappoint them. He tells us to let him work on it for a while and call back in an hour. We call back and he tells us there is nothing to salvage from our unit. He needs to either completely rebuild it, which would cost well over $1000.00 or we should try to find a used unit. I ask for directions on how to start looking for something like this and he says he's not sure. "Let me work on it and call back in an hour", he says. I call back and he tells me he has found a unit. It was rebuilt for one of their regular customers but that after they rebuilt it, he decided to buy an new motor so had never used the rebuilt unit. The customer was willing to sell so he went and picked up the unit and brought it back to the shop. So on Friday afternoon we had the unit and were ready for the weekend. This was a case of everyone trying to get us on our way. Joyce of U. S. Boat, even though she couldn't help directly, did everything she could to help and it was good to know that there was someone willing to manage the problem and help out with the small details. The Sheriff's Deputy, who decided that we shouldn't be left out there all night, so decided to take it on himself to go help. And an employee of H and H marine who went to the extra effort to run down a lower unit for someone who he knew may never need to buy from them again.
People can be nice.

---
I suppose no matter where you go there is some issue, usually somewhat political, that stirs fishermen and hunters to an emotional level that they usually don't exhibit. In California we have water; in Louisiana they have access to the swamplands along the Bayous.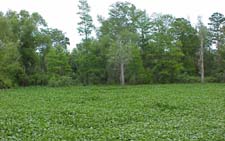 First of all there is something like 7 million acres (depending on who is telling it) of wetlands in Louisiana. A lot of that is a few acres to thousands of acres that is part of a farm and may be used for rice growing or just kept in a natural state because that is what the family always did. It may be hunted during duck season by the family or rented out to "outsiders". No one down here would suggest that the farmer doesn't have a right to keep the public out and do what he wants with the land.
A large number of these 7 million acres are in Wildlife Preserves owned by the State and Federal Governments. Some areas are owned by Flood Control Agencies and a long list of other agencies.
Then you get down to large acreage's owned by large Lumber Companies, Oil Companies, Land Companies and others. At the end you find that all the land is owned by someone. And a huge amount is owned by the above commercial companies who want to keep everyone out and certainly want them out unless they pay to access the land (water).
As you go up the Atchafalaya River you see signs every few hundred yards indicating that the land is "posted". When you come to a Bayou the signs follow the banks as far as you can go up the Bayou. In this same area are canals which have been built by the landowner or by a commercial canal company who have leased land for this purpose from the landowner. In this case the canal is posted and in some cases the canal entrance is blocked. There is no difficulty in getting into this area. In many cases the Bayou will be 8 feet deep and the area on each side of the Bayou will be from 1 foot to 6 feet deep. You can just steer your boat from the Bayou to the adjacent areas and roam at will.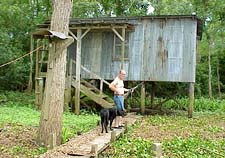 The previous prevailing case in this issue was a case in which a crawfisherman was found guilty of trespassing in flooded swampland by gaining access through a private canal. But in the past year a case has been progressing along where a man went on posted land directly from a Bayou.The law: "No person shall, without authority, go into, upon, or remain in or upon or attempt to go into or upon any structure, watercraft or other movable or immovable property which belongs to another…after having been forbidden to do so either orally or in writing…"
So the crawfisherman was on water, directly from water he had a right to be on, in a boat owned by him and on what his attorney successful argued that the place his client was accused of being was not land, but "water bottom".
A number of expert witnesses were heard and the judge himself made a field trip to allow the District Attorney show him "on the water" where the problem occurred. The judge did not deal with land that was deliberately flooded, thereby protecting landowners and public agencies who flood land to create or re-create wetlands. The Judge said: "This was not flooded swampland." "It remained under water. It was not flooded by any act of anyone other than the fact that in its natural state at different times of the year, this particular area had between 6 inches and 5 feet of water, and was navigable in fact."
This has not been an issue that I have worried about since the real test has always been "Are you taking something off the property and did you leave when asked to do so." But for many people who have lived off the water for a number of generations, this is a very big issue. They caught crawfish before anyone else wanted them and now that they have a value, they see themselves being forced out by commercial operations. For the sports fishing people, they have been excluded not because they are causing problems, but so the landowner can say they have excluded everyone, not just certain people.This issue is not resolved. Some State Legislators have said that they will "correct" the problem next year and different groups are gearing up to enter the battle.
---
Well the brother and sister arrived and brought John's wife Joyce so we had a good group on Friday afternoon. Since we still had a little work to do on the motor we decided to go on a swamp tour in an airboat. This would get everyone back into the real swamp quickly and we then wouldn't try to get them back into the swamp in the houseboat or our little 16 foot aluminum boat. I had heard that the man here did a good job and took about 1 ½ hour for the tour. It turned our to be a bargain. We saw close up views of alligator nests, Bald Eagle nests and all the things Max and I saw earlier without wading in hip deep water and spending 4 - 5 hours sweating through the swamp. Definitely the right way to go!! It is amazing how many alligators there are down here. There has been a small one in the water around the Marina but now a large one has arrived and the little one now has moved over in our area. When I say little, I mean about 4 feet long. The large one is about 10 feet long. People like to watch the little one but wish the large one would move on. Bob the marina owner has to alert all his customers with dogs that the alligator is there. And Max can't figure what all the concern is about.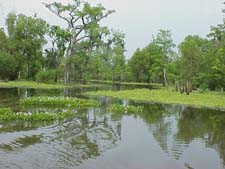 Besides seeing all the scenery, everyone enjoyed the airboat ride. It moves over water or mud equally well and takes you places that you couldn't get to in a boat. The water lilies are blooming now and you see vast areas where they are all in bloom. They put their up on a stalk about 2 feet high and their leaves which float on water are about 18 inches across. At certain times of the year people gather them to sell for ponds and like everything else they have to pay the landowner so much for each plant. Even though next year you can't tell that any were taken the year before. According to the airboat operator the people who gather the alligator eggs pay the landowner $10.00 per egg and a nest may have 30-40 eggs. They then sell them for whatever they can get for them or in some cases, they hatch them themselves and later sell the alligators. He said some people gather them in airboats, but most use helicopters.
Much of this land was once covered with huge stands of Cypress trees. Some approaching 1000 years of age. The old growth trees had a substance in them that resisted rot and bugs and were used for boats, well casings and other structures that would be in contact with the ground or water. I am told that the new growth does not have this feature. The lumber itself is pretty and is used for paneling and other places where the wood will be seen. In some ways the Cypress is to the south what the Redwood is to the west. While there are still some stands of old Cypress, much of the new growth has other species mixed in with it and will probable never reach its former age or size even if it is protected. After the airboat tour Joel (my youngest brother) fixed a great dinner of fajitas. A little bit of Texas in South Louisiana.Saturday we decided to go to Turtle Bayou. It would be the first long run with the new lower unit on the motor but goes through some scenic areas and is about 4 hours away. Everyone gets a boat ride through pretty swamplands and may provide some fish to catch. Taking a chapter from Tom Sawyer, I convinced everyone the steering the boat is a very important job and not one that just anyone could do. So with a little training I turned the steering duties over to the passengers and had a chance to simply sit back and enjoy the trip.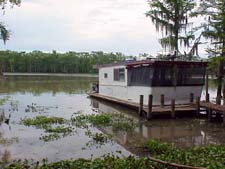 About half way there Mother Nature decided to put on a show for us and we progressed through a thunder storm with a short spell of heavy rain. Beautiful lightening streaks with heavy thunder and a period when it appeared that it would turn completely dark. Then the sun came out and in a short time clear sky. Lots of birds and alligators.The only concern I had was a place for Max to get off the boat. I had been told that there were some fishing camps in this area so I felt that we could use one of them as long as they were where we could get to them. As it turned out Louisiana State University had taken care of the need for us. They are doing a study in the area and had built about 200 feet of walkway into the marsh. Max got to have another experience with a floton, the floating marsh. I kept a rope tied to his leash and let him run around. At times he would go completely through the crust and come up wet and muddy. Those big webbed feet come in handy down here.
Fishing has not been high on the list of things to do for John's wife Joyce. However, she decided to give it a try when we got to the area we felt was a good place to stop. We thought it would be a good place to put out a trotline and needed some perch for bait and maybe have a few to eat. Joyce turned out to be a great fisherperson. We had 30 for our trotline, 20 for dinner and released that many or more. She is hooked now.We didn't do as well with our trotline. With 30 hooks baited we caught 8 fish called Gars. These are fish with sharp teeth in a long snout who look bad and have been known to attack humans, although very rarely. The bait was all gone, probably taken by them or their brothers and sisters. Usually if they are in an area you see them hitting the surface with a splash. We saw little evidence of them and hoped that there would not be many in the area. At least now there are 8 fewer.
Anyway, we had a good fish fry on Saturday and found a quite place to anchor off the main channel so we would not be run over by the participants in a bass tournament taking place that weekend. More later about the class of boaters who have no challengers that can approach them for the title "Most Rude Boater On The Water."
---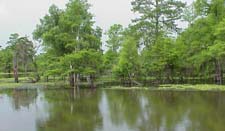 This weekend starts a two week period in Southern Louisiana called Congres Mondial Acadien, known in English as the Acadian World Congress. Several thousand Canadians are expected to join many thousand Louisiana residents in various types of celebrations. Family reunions, "twinning" ceremonies (sister city formations), and of course speeches will take place during the next two weeks.
The first Congress was held New Brunswick, Canada in 1994. Over 300,000 people attended that event. The Louisiana event will be spread over a larger area and will focus on a number of events and will probably exceed that number in total.
I thought I would give you a little background of the people who came to this area since they came in a little different fashion then many other settlers. Many people today are proud of being called Cajuns, however as recent as 40-50 years that was not the case. When I went to elementary school in Longville, Louisiana an area just outside of the area generally thought of as Cajun country, if you called someone a Cajun, it was an insult and could provoke a fight. Most of the children my age spoke French as their first language, but when they went to school, they were prohibited from speaking French and were punished if they insisted.
Besides being called Cajuns, they were called Coon-asses, Web-foots, and many other terms. People from northern Louisiana were called Red-necks among other things. Since as a child we lived and associated with people form both areas, we often enjoyed conflicts from both sides. It was never serious since we left to live in Texas when I was in the 6th grade.
If I have to trace my roots to prove that I am a Cajun, I do so through my grandmother. Her name was Francis Hebert. Her father probably wanted a son but felt that he couldn't call her Francois.
Now for the factors that brought these people to what is now the United States. France was one of the first countries to attempt settlements in the New World. They did this in what is now the Maritime Provinces in Canada. In 1604 a group of settlers landed on St. Croix Island and the following year moved to a larger island known as Acadia, now called Nova Scotia. Port Royal and only males were allowed to live there for the next 30 or so years. England and France were at war off and on for the next 100 years and the settlers faced attacks from the English. In the 1630's a treaty brought peace to the area and the first children were born there. Shortly afterwards a number of new settlers arrived from France, increasing their numbers until 1655. Once again France and England increased their hostilities until 1670 until the treaty of Breda again brought peace. In the early 1700's the English captured Port Royal for the last time and in 1713 England got permanent possession of Acadia. The English forces occupied the area and with the exception of the soldiers the entire population was the Acadians.
The English wanted to get rid of the Acadians. England and France were still at odds and the English were afraid the the Acadians would rise up and attack them. But on the other hand they had to have the Acadians because they had no one else to supply them with goods and services. From 1713 to 1755 the Acadians were often treated badly and often were required to work with being paid. But they were allowed to go on with their lives. They farmed, went to church, and raised their families. The population increased greatly during this time but they never offered any threat to the English. They really wanted no part of the conflict between France and England. They took an oath to remain neutral, and were often referred to as French Neutrals.
About 1750 England settled 2500 colonists in Acadia. They had long wanted their own settlers to supply their needs. Many Acadians moved further north to keep from being persecuted by the English. Governor Charles Lawrence had wanted to rid the area of Acadians for some time, but needed their services. Now he felt that he could do without and was able to convince other officials that this was the right thing to do. In the fall of 1755 the English started rounding up the Acadians and deporting them to the American Colonies. Their arrival was not greeted with happiness. 1500 Acadians sent to Virginia were not allowed to land and were sent on to England to be put in concentration camps where they stayed until the war between England and France ended in 1763 and they were sent to Morlaix, France.2000 were sent to Massachusetts, 1000 to South Carolina, 900 to Connecticut and smaller numbers to Maryland, Pennsylvania, Georgia and New York. What? What about Louisiana? Well, in 1758 the French were finally completely defeated in Canada, and the French soldiers AND the entire Acadian population were to be deported to France. Over 2000 Acadians were deported to France. Two ships with 700 people sank on the way. One-third of the passengers on the other ships died on the way. These deportations went on for several years when the English would find groups of Acadians. These deportations stopped in 1763.
Some of the people deported to France were descendents of 6 or 7 generations in Canada. They didn't fit in well in France much better than they fit in in the Colonies. No concrete evidence of Acadians in Louisiana appear before 1764. Some people claim that some came before, but no church records appear before that date. The Acadians fared well in Louisiana and by 1785 more than 1000 Acadians lived in Louisiana. The Acadians never fared well in France. They had no land and their were no demands for their frontier skills. France tried to settle some in South America, and other areas but it had not worked well. In 1773 a census taken in France indicated that about 2500 Acadians lived in France. At this time Louisiana was under the control of Spain. Reports reached Spain that the Acadians were valuable settlers, not the least asset being their willingness to settle on the frontiers and could serve as a buffer to keep the English from pushing against the Spanish. King Charles III of Spain agreed to pay the way for the Acadians to go to Louisiana. In 1784 seven ships departed France for Louisiana.
The general impression is that the Acadians were the only people to settle. Many other nationalities came before the Acadians and after their arrival most blended into the culture called Cajuns. The French came in 1700, French Canadians (not Acadians) followed shortly after the French, Germans arrived in the 1720's, and Spanish. Since the Louisiana purchase, most of the new settlers came from other states and have been English. Today, Louisiana is as much a mixture as the rest of the nation. Religion, multiply cultures, various languages and other factors have in some cases been a blessing for the state and in other cases have served to hold it back.