Fishing Stories: Louisana Swamplands, May 1999
Well, here is part 1 from the Louisiana swamplands. (It also may be the last, so don't expect more until they get there.) I left California to intercept the houseboat at Orange, Texas. Unfortunately, travel restrictions, storms and different regulations in each state delayed the houseboat several days. It finally arrived, however, due to the delay we decided to take it on to Lafayette, Louisiana so I could save the three days of travel with it on the Intercoastal Waterway. Travel on the "ditch" is somewhat dull. Like traveling down I-5 in the Central Valley. Jean arrived in Lafayette on May 29th We had tickets for the Zydeco Extravaganza on the 3th so we waited until the afternoon of the 30th to depart.In the days before Jean arrived, I discovered that the long trip overland had caused a seam in the right pontoon to separate and we had a leak. Luckily, the pontoon was built with cells inside so if a leak develops the entire pontoon will not take in water. Unfortunately, the nearest take-out facility that can also do the repairs is in New Iberia, more that 50 miles away. Nothing to do but head out. We left about the middle of the afternoon expecting to find several places to tie up with a dock like we find so many of in California. Guess what. This part of Louisiana has never heard of docks!! After traveling down the Vermillion River to Abbeville we finally found an erosion structure we could tie up to and leave the boat. No one appreciated this more than Max.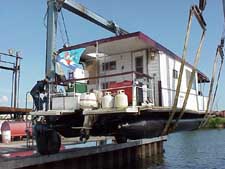 Let me take a few minutes to relate the experience of taking Max on his first airline trip. We were concerned that the carrier we had bought for him a year ago would be too small. He could fit in it but the elapsed time of the trip would be over 7 hours so I called the airlines to check with them on the size and other requirements. I was assured that they could handle any of the standard carriers, even telling me the type that I could use. I then bought the next size up and thought everything would be fine. We arrived at the airport 2 hours early to make sure everything would go OK and if not we would have time to adjust. Check in went OK.
Max started his trip by being taken on a baggage cart through a door behind the check-in counter. Time passed. Boarding was announced and I started to board. I noticed that the boarding person was checking the destination of each passenger, but thought little about it. When she took my boarding pass she called out "Here's the Alexander (La.) passenger." Another person came over and calmly told me "We won't be able to take your dog" and she then started to walk away. I will spare you my response, but after giving her a short lesson in courtesy, we then discussed the problem. In her words: "Since you have booked your flight on an M-80, their cargo doors are smaller and therefore the carrier is 1 inch too large to go in."
From there we progressed to a demonstration of the problem with a cargo person, the boarding person, the pilot, the co-pilot and the manager of the Continental Airlines operations in San Jose. I offered to take the carrier apart, put it in the cargo bay and putting Max in and putting it back together. That wasn't possible because of regulations. (Whose regulations was never clear.) A flight that on course to depart on time has now gone to 10 minutes late and still no solution. At every call I had made to Continental I had asked that an entry be made in the record that I was making this reservation on the assurance that my dog could travel with me. So I now suggested that we wait together and go on the next flight that would be flown with larger equipment. However, I didn't intend to do this unless they would deny me boarding and I could get a free flight out of it. This didn't go over well, so they checked with American Airlines to see if I could be put on their flight that left about the same time. No space.
At this point the Pilot asked me: "Do you have any more suggestions?" I responded, "Well, I don't work for Continental, but if I did I would be checking to see if one of the airlines had a smaller carrier that you could borrow." The pilot said, "Sounds like a good idea to me." The agent punched a button on her phone, talked briefly, punched another button on her phone, talked briefly and said, "The cargo boys will one here in 5 minutes." We then waited. Someone said, "I've seen these dogs go into the first carrier OK but then refuse to get back in if you take them out." Something to worry about for the remaining 2 minutes. Carrier arrives. They open it's door and open Max's carrier door, put them together and then try to shake Max out. Max just lays there. I have to admit, I am now concerned about whether Max will come out and go in the other carrier, but I figure I just have to trust Max. I tell the shakers to let me try. I put Max's leash on him, tell him to come out, which he does and then I tell him to "Saddle Up" (the Marine Corp phrase I use to put him in a car, or kennel.) With everyone holding their breath, Max walks right in the new carrier!! Carrier goes into plane, I go take my sear, the pilot and co-pilot do their job and we are on our way. In the end we arrive in Houston a few minutes early so all is well.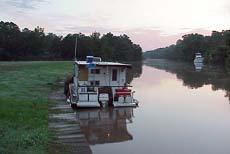 Well, back to Abbeville. We have a nice dinner, spend the night and go on the next morning. Next stop: Intercoastal City. We will need gas and we haven't seen any stations close to the river. We see our first alligator. About 4 feet long swimming across our bow. I slow down to watch him and he immediately dives. Must have been bashful. Anyway we find a place to get gas. Somewhat unpleasant people but the gas is welcome. About 25 miles to go. We have some headwind but things go well and we make it to the Port of Iberia in time to take the boat out and examine the problem. Prognosis: no problem, they can have it finished by the next afternoon.
Jean, Max and I find a Red Roof Inn (One of only 2 places in Lafayette that will take dogs.) We had gone back to Lafayette to pick up my brother's car, The next day we pick up our boat, cruise out and spend the night just outside the Intercoastal Waterway. The next day we enter Bayou Teche, which you will remember from Evangeline by Longfellow. More on that in future missiles.
---
Well, here I am with number two, but it will have to wait to be sent until I am back in reach with my cell phone. I will be back in Morgan City in two days so will probably be able to send it then.When I left the last E-mail, we had just entered Bayou Teche. It is basically a beautiful stream. Many old houses are built along the Bayou and old sugar cane processing facilities, some appear abandoned and some still operating, give you something to see all along the cruise. The negative is that there is no place to tie up and no place to get gas or supplies on the bayou.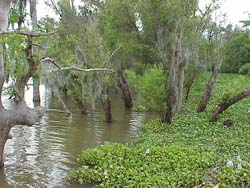 At Jeanerette, we have been told that gas is only about 2 blocks from the bridge. We tie up to the bridge and Max and I start off for town. We find a grocery store 4 blocks from the bridge and a gas station one block further. On the first trip I make the grocery store stop. Then I start back with two 6 gallon cans to get gas. A man is sitting on his front porch and offers to take me to get gas. We gladly accept. It turns out he is a pharmacist and since Jean has developed a sore throat he advises me on what I should get for her. Although it provides her some relief, the sore throat and difficulty in speaking plagues her the rest of the trip.
There are numerous bridges along the way and we have to call to request that they be opened. This generally works well and goes smoothly. However, we are advised that after we pass New Iberia we will have to pass through a set of locks. I make numerous calls to the Corp of Engineers, speaking to many people but no one who can assure me that they will be able to open the locks. Finally we give up. In the process someone tells me that I should call the Sheriff of St. Martin Parish because they have heard that he may have authority to open the locks. I call, ask for him and he answers the phone. His story is that nobody is satisfied with the Corps of Engineers and that he has been trying to get the COE to let him handle responsibility. But they won't work with him. When I get back, I plan on seeing if Congresswoman Lofgren can press the COE on this issue.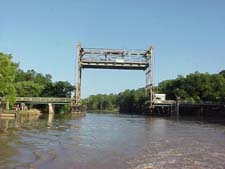 Anyway, we decide to stay in New Iberia. We are told that there is a great city wharf and no problem in tying up there. Imagine our surprise when we get there and find that the wharf is a 10 foot high wall along the river!! Turns out they built the wharf for riverboats, which don't seem to have materialized, or perhaps with a hope that they could have gotten a gambling casino. Whatever the plans they did not include houseboats docking there. We did however find a very nice dock and asked the business, which was a sports bar and grill, if we could stay there for a few days. They readily agreed and we had a very nice stay with them.
We did a couple of days sightseeing by car and renewed an acquaintance with a woman who has a great supply of antiques in Leonville. Nothing we can't live without however. Food has been great. We saw the Zydeco Extravaganza and later we went to the Cajun Music Festival in Mamou. The last real disappointment was the Evangeline Oaks location in St. Martinsville. They have built a nice walkway along the Bayou and dedicated it to a former mayor, who the plaque depicts as someone who was the epitome of southern hospitality. Yep, you are correct, you can't get ashore from the Bayou. If Evangeline had waited until 1999 to come, she wouldn't be able to land!! It would seem that if for no other reason than symbolic, they should have placed a landing there.
---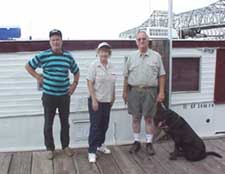 My last report ended with us still on Bayou Teche. From there Jean returned to San Jose and my brother joined me for our next stage. We had planned on starting out on Monday evening after putting Jean on her plane in Lafayette. But we needed to get him a fishing license before starting out and the only place to get one is the Sheriff's office. But the office is closed so we have to hold over until after their office opens on Tuesday. No problems, license obtained, and we start out. We have to go back down Bayou Teche and hope to cut through to the Atchafalaya River at Calumet. We are told that we can get through that way but Bayou Teche is difficult to navigate in that area and that we should go back to the Intercoastal Waterway and take the Wax Lake cutoff. We decide to follow this advice. This is a long trip to make in one day but we hope to make it. The fishing license stop took some time and so we can't make an early start. Back down the Bayou Teche is uneventful except for a few delays at bridges. We arrive back at the Intercoastal Waterway in the late afternoon. It is clear we will not make it to Morgan City that night, but being the optimist that I am I think we will be able to find an anchorage somewhere along the IW. Well, we found a few places we could have anchoraged, but no place we can get to solid ground. Now we have a bathroom on the houseboat, but Max doesn't. He insists on getting off the boat when he is ready to go. By this time, it is clear that Max is ready to go but nowhere to find solid ground. After checking over the radio with all the passing barges and tugboats, we are told that there is a hunters cabin up one of the waterways off the IW. We head for it. It is there and Max is now a happy traveler. But now we can't find an anchorage. It is dark and we stop at one likely place for dinner and to see how it would work. It doesn't work. Too many barges and they have to pass too close for us to feel secure.
We push on. After about 2 hours we find a large plant which looks like it is a power plant. No where to dock or tie up. However we see a small waterway off the IW and decide to check it out. It is a water intake of some type and since the wind has started to blow fairly hard we decide to anchor here for the night. At least it is away from the barges and we don't think there is any danger of being pulled into the intake pipe. The night is uneventful and we can even get to solid ground here the next morning. We have violated Rule 1 through 10 of the swamps: Make sure that you have completed all required activities before dark!! It has worked out OK this time but we intend to try to adhere to this rule in the future.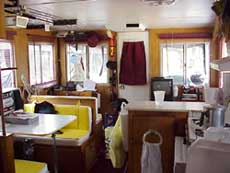 Once again we find ourselves at a point as close as we will come to gas and having to walk for it. We stop at a bridge and walk a short distance to a cement mixing facility. There is only one employee working and he tells us it is about 2 ½ miles to a gas station. We press him to make sure that it is no more than this distance and he assures us he can tell distances very accurately. Well, you guessed it. We walked over 2 miles and see no indication that there is a gas station ahead. Finally we are picked up by the manager of the local airport and sure enough it is at least 2 more miles to the station. The manager agrees to take us back to the houseboat so we don't have to carry the gas back. He is a very nice person and his wife works for Governor Foster. I don't ask him about the David Duke money and mailing list issue!!
As we started the hike Max was running ahead and having a great time but the heat began to tell on him. After about a mile he started walking on the grass because the asphalt was hot on his feet. Then he wanted to walk right behind me to benefit from my shade. Then every time I would slow down he would lay down in my shade and look as if he were asking "Is this trip necessary?"
Anyway, we are able to get back on the road, water, that is. On into Morgan City without any problems and to our surprise, they have a Municipal Dock and no charge for its use. Of course we have to share it with Shrimp Boats, Tug boats and other commercial boats and it is located under two highway bridges and next to a train bridge. But we are sure glad to see it.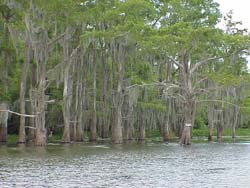 The Atchafalaya River was once the ancient route of the Mississippi River to the Gulf of Mexico About 1809, Dr. Walter Brashear, a famed Kentucky surgeon, moved to this area and when the settlement needed a name they decided to call it Brashear. It was incorporated in 1860. The town and area played a prominent rolein the Civil War. It was the base of operations for Union occupation forces from 1862-1865. The town itself was recaptured in 1863. In 1872, Charles Morgan of New York completed dredging the Atchafalaya Bay Channel, made Brashear the base for his rail and steamship operations and in 1876 it was renamed Morgan City in his honor.
The first "Tarzan of the Apes" silent movie was filmed in part in Morgan City in 1917. By 1930 it was known as the "Shrimp Capital of the World." In the 1940's as oil became a big economic force it became known as "Gateway to the Tidelands" and later "Hub of the Inland Waterways." Who knows what the future holds.
---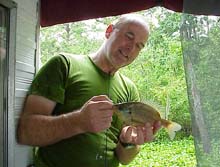 A little bit on fishing. This segment was intended to mainly get the houseboat down here and explore various possibilities. We have done some fishing along however. Nothing to write home about so I won't. We haven't had any contact with the 100 lb catfish and haven't done any saltwater fishing. That will be saved for the next time I am down. Some of the fish caught in Louisiana and their records are:
Largemouth Bass--16 lb.
Bream--2.5 lb.
Crappie--4.3 lb.
Speckled trout--12.4 lb.
Redfish--61 lb.
Flounder--12.1 lb.
King Mackerel--82 lb.
Cobia--112 lb.
Black Drum--77 lb.
Sheepshead--14.8 lb.
Red Snapper--39.6 lb.
Flathead Catfish--98.5 lb.
This does not include non-native fish and migratory ocean fish such as Dorado and Billfish. The greatest attraction is the type of fishing you are doing and the surroundings you are in rather than a particular type of fish. (except that 100 lb catfish.
I have moved the boat about 20 miles east of Morgan City to a marina called Bob's Black Bayou Marina. It's not on the Black Bayou but it's close so I suppose that is OK. Yesterday I went back to Morgan City to get my brother's car that I had left parked at the Municipal Dock there. I had tried to find someone at the Marina to give me a ride into town but no luck. So I walked out to the highway to try to hitch a ride. As I walked along the highway a man sitting on the front porch of his house called to ask where I was going and if I had run out of gas. I told him and he offered to drive me into Morgan City, which is about 25 miles. Turns out that his son is getting married soon and he needs to catch enough catfish to feed a large number of guests. I offered to help out and we went fishing that night. With this type of fishing you put out a long line with short lines hanging down. The entire rig is called a trotline and the short lines are called stagens. We put out 2 trotlines with about 20 stagens on each one. We used shad for bait. We then left them out overnight. By this time it is about 10:00 PM. He came by the next morning about 5AM and we went to harvest out results. We did pretty good. Caught 8 fish, most of them 2 - 4 lb.. One weighed almost 20 lb.. Not enough for the wedding but I will be gone before he can go back out again. They invited me to the wedding, but I don't think that is any big deal, because I think they were inviting everybody.
People appear to be sort of "stand-offish" down here until they have some reason to talk to you. Given a reason, they open up and are very friendly. They are all interested in the "trip". I think I have gone further on the boat on this trip then some of them have been in their entire lives.
On the serious/hilarious side (I thought is was being done "tongue in cheek" at first and thought it was funny and then found out it was serious) is an effort by some city council members to draft a truth in advertising ordinance related to events held in the city. The thing that kicked this off was a concert by rock groups such as Korn, Limp Bizkit, Orgy and other alternative bands that performed under the umbrella name of Family Values Tour. The ordinance will punish promoters who mislead the public about the content of a performance. The councilman who proposed the ordinance (which has passed with 6 yes votes, 1 no vote and one brave abstention) said he received numerous calls from parents who thought Family Values Tour meant it was a Jesus Fest coming to town.
This comes on the heels of a measure by a State Senator to require all children to address the teacher as "ma'am". It is reported that he thinks men teachers can handle this issue themselves so did not require "sir" for men teachers. This is a nice place to fish, but don't get into discussions about social issues!!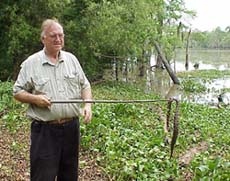 I keep hearing stories about people who have met people from Louisiana who can't speak English. Strictly speaking, this is probably correct. It certainly doesn't sound like English. In reality, however, virtually every resident of coastal Louisiana understands and speaks English. An ancient Cajun version of French is also spoken among older bayou residents however, and the old language has made its way into words, expressions and accents of the entire English speaking population. Here are some of the more commonly used words:
Andouille (AHN doo e) A spicy sausage usually made using unground pieces of pork, often used as a meat seasoning in regional dishes.
Bayou (BY you) An American Indian word designating a sluggish destributary stream that, before modern levees, flooded whenever the "parent" stream overflowed. The sandy silt deposited on the banks of the bayous by those repeated overflows forms the habitable bayou-side ridges where pre-levee coastal Louisiana residents live and work.
Boudin (BOO DAn) A very spicy rice "dressing" cooked in a sausage casing. Traditionally, white boudin was seasoned with bits of pork, while red boudin was made with blood. The later is almost never sold commercially, and turkey and crawfish "white" boudins compete with the traditional pork variety. The red boudin is available, but generally must be ordered ahead of time.
Choupic (SHU Pic) Another American Indian name for the sluggish freshwater fish otherwise know as the grindle, bowfin or mudfish. May all be used by children as a derogatory remark to another child that is slow or clumsy.
Cajuns (KAY juns) Acadians. Technically, a Cajun should count among his ancestors one of the French residents forced, like Longfellow's Evangeline, to leave Acadia (now Nova Scotia) some 200 years ago. But although many Louisianans have no French ancestry and many who do owe it to direct immigration from France, the term "Cajun" is now used loosely. When I was a child in Louisiana, you usually used the term in an insulting fashion preceded usually by "dumb", "stupid" or some more colorful descriptive word. As Cajun cooking has caught on outside the south and with increased popularity of Cajun and Zydeco music anyone who drives through Louisiana can claim to be Cajun.
---
Well, Max and I are getting ready to head for home. The past few days have been great. With one exception of making a run down to the gulf coast to see how the water looked and how difficult to would be to go there we have stayed at the marina or somewhere in the swamp. We found a place where we could get the houseboat off the main channel and into the shallow swamp. Before we went too far we ran out of enough water to float the houseboat, but we did find what is called a "floton", or literally "floating earth. They can be found in all sizes. This was about 100 yards wide and maybe a half mile long. They are thick enough to hold you up, but if you stand in one place very long the water will come up around you feet and then you feet will start sinking. If you keep moving you are all right. It is sort of like walking on a water bed.We found several alligator nests. They lay their eggs now and they will hatch in August. Trappers will take many of these eggs and sell them to the alligator farms. It is regulated by the Dept. of Fish and Game and when the alligators are about 2-3 years old they are required to return 17 out of ever 100 that has reached that age. The Department credits this program with bringing the alligator back from being nearly extinct to having an estimated 400,000 in the wild. One interesting footnote, according to the people around here, is that the sex of the alligator is determined by the temperature at which it is hatched. At less then 88 degrees it will be female and more than 88 degrees it will be male. The alligator farms like to keep the temperature at 90 degrees so they will get all males, since they grow larger at a faster rate. Fish and Game told me they monitor the sex issue to insure it doesn't get out of line.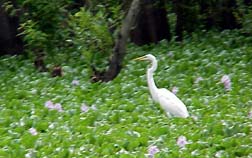 In this half mile walk we saw birds in the thousands. The greatest number was the Ibis but it would probably be easier to name the ones that we didn't see. Max couldn't get over it. He would just stop and look and then he would start sinking so he would take a few steps and start looking again.
We keep seeing alligators so I am reluctant to let Max swim in the bayous. I let him swim around the boat landing so that seems to satisfy him.
Here are a few more Cajun words and expressions commonly used:
Graton (Greh TAWn) fried pork skins, cracklings. (you probably won't need this word unless you are a kid or going to watch the Superbowl down here.)
Grillades (Gree odds) grilled or broiled serving size pieces of meat. (Use this one on your friends the next time you have a barbecue.)
Pecan (puh CAWn) an edible nut of the hickory family. (I put this one in to keep you from pronouncing it PE CAN which is another item in the rural area altogether.
Praline (PRAW leen) A creamy sugar candy made with pecans.
Jambalaya (JAHM buh LYE uh) A Cajun dish resembling Rice dressing. It is made of rice,meat, sausage or seafood, or a combination thereof.
Nutria (NOOT ree uh) Actually, only a high school English teacher would pronounce it this way, most everyone else just calls it NOOT ruh. This is the Louisiana name for the imported fur-bearing pest known in South America as the Coypu. The vegetarian rodent resembles a beaver, but lacks the flat tail and dam-building abilities. Also common in the San Francisco Delta.
Pirogue (PEE rowg) The local equivalent of a canoe, originally hewed from a cypress log, now made of plywood or fiberglass, pointed ends, flat bottomed, propelled by poling or paddling and capable of navigating shallow, marshy waterways.
Fais dodo (FAY DOH DOH) A Cajun country dance. I asked an elderly woman at the Cajun Music Festival in Mamau what the word meant and she said it came from a roughly translated children's phrase for "go to sleep" which she speculated came from a time when all the family went to a dance together and the adults couldn't dance until their children went to sleep.
Cocodrie (COCO dree) The Cajun version of the French word for Crocodile, applied to the American alligator. Not really used today since everyone calls them "gators." The word continues in use in place names, like Bayous, lakes and towns.
Crawfish (Always CRAW Fish, never CRAY Fish) A freshwater crustacean never used for anything but fishbait until someone found that they could be sold to tourist and outside the south as a food delicacy. Most often served boiled whole and highly seasoned.
Chere,f., Cher,m (SHEHr) Used to mean "friend" or "dear friend." This term is found in most any conversation and is very confusing since it appears so often and makes it more difficult to follow the other things being said. Once you pick it up you can use it as a way of catching up on what else was said by ignoring it.
And now to pack and catch a plane.